What equipment will I need on my first day?
It is important that you are organised and prepared for school, we expect each student to arrive ready to learn and having the equipment you need to be successful is a key part of this process.
You should bring an appropriate school bag each day to carry your equipment, we expect students to bring a pencil case with the following in as a minimum:
Pens (black or blue)
Pencil
Ruler
Rubber
Pencil sharpener
Colouring pencils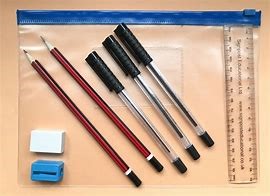 Individual subjects may require specialist equipment for example calculators, protractors, highlighters, green/red biros but students will be told of this in advance and not expected to have them from day one.
We also require students as part of their equipment to bring a reading book of their choice to school. We have set private and paired reading times timetabled into the year 7 tutor programme.
Students will not need to bring their PE kit on the first day.
Students will require money loaded onto their ParentPay account by the morning of their first day, please do this via the online system, emails will have been circulated to parents with instructions and passwords included. Any questions, please let us know.