It's been another fantastic week for our Student of the Week nominations! Here are all of our winners this week, and their reasons for nominations.
Well done everyone!
Year 7:
Aiden Crickett – Nominated by Miss Thompson in English for always being hardworking and always responsive in live session, offering great input. He was also nominated by Miss Mitchell in DT for going over and above with the effort they put into making their chairs from recycled materials.
Evan Laverick – Nominated by Mrs Fox in English for trying so hard and always contributing.
Tyler Elliott – Nominated by Mr Merry for consistently working hard in live lessons in Maths.
India Mahone – Nominated by Mr Merry for consistently working hard in live lessons in Maths.
Laila-Rose Davidson – Nominated by Mrs Hannan in French. Mrs Hannan does know what she would do without Layla! She is always participating in lessons and her work is fantastic.
Brooke McClelland – Nominated by Mrs Stevenson for being an absolute star and always contributing to lessons!
Year 8:
Keira Mossop – Art – Always trying her best and always putting 100% effort in.
Sophie Robinson – She has been an absolute star in the French lessons this week, great participation and fantastic work.
Chisom Agbata – He is always amazing in lesson and gives 100% every time PE.
Niall Sullivan – for working hard and trying in Maths.

Ava Lofthouse – for some great written work in History.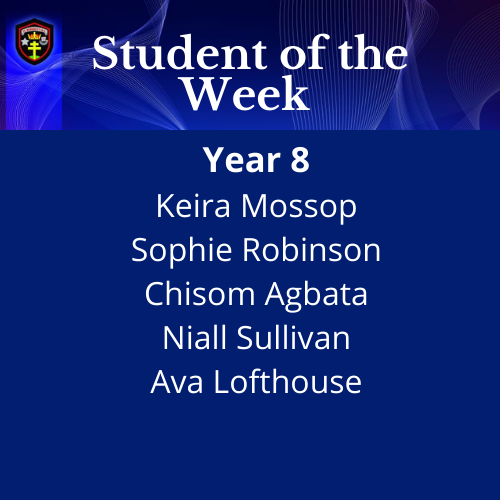 Year 9:
Isabelle Ritche – for wonderful work in Maths and answering in class, Mrs Mulrain.
Josh Groggins – nominated twice! Firstly for making an excellent repurposed desk tidy in DT, Miss Mitchell. And secondly for being super outstanding in English, Mr North.
Gracie Rogan – attends all lessons and completes work to a high standard in Science, Miss O'Fee.
Alisa Seath – for outstanding work in English, Miss Bragg.
Leo Hamilton – for being super outstanding in English, Mr North.
Year 10:
Amber Telford & Ashton Hooper – for well written exam answers in History, Mrs Bridgman.
Elizabeth Clingan – for 100% attendance to Physics lessons and completing all work to a good standard, Mrs Burnup.
Kara Anderson, Jamie Reay, Kayla Reay and Susmita Wahiduzzaman – all for 100% attendance.
Year 11:
Scott Egan – Two nominations firstly for completing online work to a very high standard in Mr Humphries Maths. Secondly, Scott has also been fantastic in Mrs O'Fee's science lessons all the way through he has completed all the work and sent it in.
Lola Bell – She has 100% attendance for her Physics lessons and has completed all work -Mrs Burnup
Stephanie Penrice – for her sustained great attitude throughout lockdown. Great effort. No mess, no fuss; she has just got on with it all and kept cheerful too!
Keira Telford – for consistently working and focused in Mr Habberjam's English lessons.
Nikki Hannah – always completes and uploads her classwork on time in Mr Kerr's Biology lessons . Well done.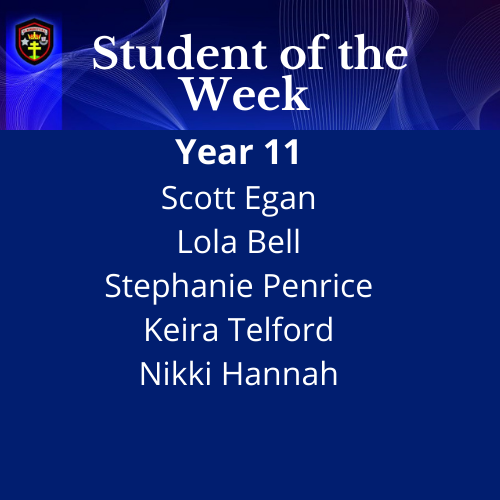 Sixth Form: