St Benedict's are celebrating after winning three COUNTY CUP FINALS this week! The Under 16s Boys', Under 16s Girls and Under 14 Girls football teams all WON their respective matches which were all played on Thursday 30th March at Carlisle.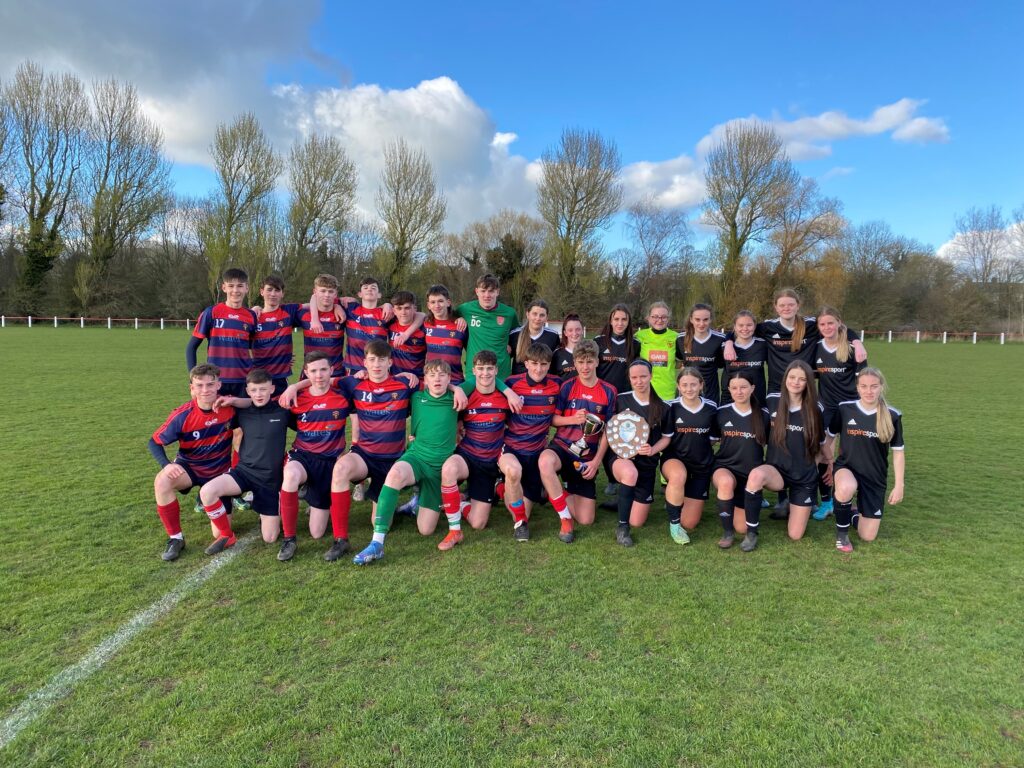 U16 Boys
The Year 11 Boys' Football squad completed their 5 year journey by securing the County title at the Sheepmount pitches in Carlisle with an emphatic 5-0 victory over Queen Katherine School of Kendal.
They went into the game as hot favourites after not only being undefeated with the county in their entire time at St Benedict's but also as many in the community know, they also reached the National Quarter Final this year. To win this tournament was a fabulous way to finish their time at the school as a squad.
The match began with St Benedict's very much on the back foot and they had goalkeeper Dylan Cromwell to thank for a string of saves in the opening exchanges to keep the scores level. There seemed to be a few nerves around and St Benedict's struggled to dominate possession as they normally do, in what was a fairly scrappy first 20 minutes. Credit to the defence as well, as there were numerous times vital interceptions, headers ad tackles put in to stem the attacking flow from the Kendal side.
As the game wore on we did begin to settle and when Shane Tyson latched onto a neat slide-rule pass he finished clinically to put St Benedict's 1-0 up. Chances came again on two occasions but were spurned and the half finished at 1-0.
The second half was a much different story. The St Benedict's lads really settled into their usual rhythm and dominated the possession. Chances were created on numerous occasions and the quality was there for all to see. Shane Tyson netted a carbon copy of his first to make it 2-0 and shortly after came one of the goals of the school season. The ball was played out from the back and with lightning accuracy and neat one touch football the ball was moved through the midfield.
Queen Katherine were doing their best to press but the ball was delivered through to substitute Keelan Mckeown who used his pace and trickery to turn the last defender inside out before slotting the ball home to make it 3-0. The game was not over yet as Queen Katherine pressed for a goal, keeper Gio Clarke pulled off a breath taking one handed reflex save straight out of the top corner to keep out the opposition. Minutes later Spike Canavan scored a lovely directed header from a pin point cross to make it 4-0. Inside the last few minutes St. Benedict's top scorer Robbie Swinburn scored a lovely goal to cap it off as he cushioned home a left footed volley from a Callum Wilson cross. 
Brilliant set of lads and a fantastic result!!
Squad was as follows: Dyaln Cromwell, Josh Foster, Ethan Thornton, Nate Frankland, Paddy Rooney, Harley Cueto (C), Zach Benson-Lester, Shane Tyson, Harvey Law, Robbie Swinburn, Callum Wilson, Gio Clarke, Keelan McKeown, Spike Canavan, Jamie Reay, Leo Merrin. Not playing through injury Romeo park and Lewis King
U16 Girls
The Under 16 girls had a hard fought but very well deserved 3-1 win against Cockermouth School.
Despite falling behind, our girls stuck with the task at hand and played some great football in both attack and defence. St Benedict's got a well deserved equaliser through a back healed shot from Poppy Fitzwilliam.
As we went into the second half our fitness and accuracy on the ball had Cockermouth on the back foot. Millie Teare scored a superb goal with almost her first touch of the ball. From then on, we were comfortable, confident, and precise on the ball in all areas of the park and sealed the with a close range shot from Grace Houghton.
It was an excellent team performance from every player on the pitch.
Miss Powe said:
"I am so, so proud of the girls. They worked hard as a team, and it has been an absolute pleasure to work with them. For many it was their last school game and what a way to end – County Champions again – well done girls and thank you to all our supporters."
Team: Keala Reay, Sophie Douglas, Emi Rudd, Jessica Bridgman, Grace Houghton, Keira Clark, Poppy Fitzwilliam, Laya McKendry, Ellie Callander, Sienna McNicholas, Emmi Davidson, Millie Teare and Jaya Pilkington.
U14 Girls
It was another impressive performance from our U14 girls defeating Workington Academy 4-1. Workington Academy were first to score in the opening 10 minutes which spurred our girls on to equalise. With a superb goal from Aarleah Robertson, the girls were quickly back in the game.
From then on, the girls played confidently, dominating in midfield and displaying some excellent football in both attack and defence.
Miss Scott said:
"I am extremely proud of the U14 girls this year. They have shown consistency across the season and I've witnessed some outstanding performances from the team. All of the girls have worked hard and shown real team spirit- congratulations girls, your hard work and dedication has paid off!"
Goal scorers: Chelsea Callander ( C ), Aarleah Robertson, Molly Blair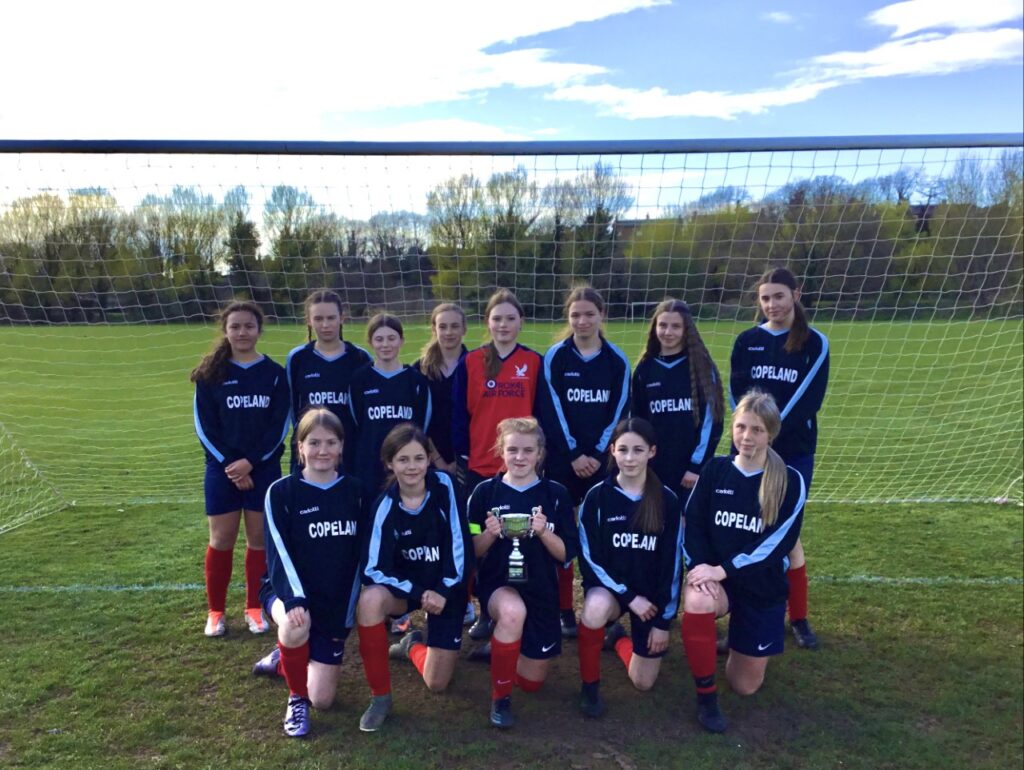 Team: Chelsea Callander ( C ), Aarleah Robertson, Molly Blair, Molly Butler, Erin Duffy, Millie Clark, Lilia Gill, Ava Greeson, Destiny Campbell, Lani Fatialofa, Tilly McLaughlin, Angel Dockerty, Anya Brannon