Throughout your years here at St Benedict's student are sorted into Tutor groups named after our schools Saints. These modern-day Saints have been carefully chosen to act as role models for our staff and students, the lives and stories of our Saints help us draw closer to God.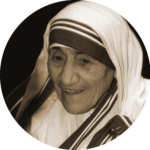 ST TERESA OF CALCUTTA
St Teresa of Calcutta, or more commonly known as Mother Teresa was a Nun based in India. When she was younger, she felt called to create her own religious order that would serve the poorest of the poor, so she founded the Missionaries of Charity. Mother Teresa established hospitals and orphanages in India that were run by the religious sisters and volunteers… these still exist today! There was a period in her life where she felt Jesus' voice was silent, she called this 'the dark night of the soul', however despite this, she remained faithful to God and her calling.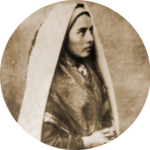 ST BERNADETTE
St Bernadette was born in Lourdes, France. As a Child gathering firewood, the Virgin Mary appeared to her and continued to appear to her. The Virgin Mary appeared to Bernadette 17 time and urged her to pray for sinners and to build a Chapel on the site.
Bernadette dug into the mud and a spring emerged. Many healings have been attributed to this water.
When she was older Bernadette became a Nun!
ST JOHN PAUL THE GREAT
St John Paul the Great, or more commonly known as Pope John Paul II was the head of the Catholic Church from 1978 until his death in 2005. He is the second longest serving Pope in history and inspired Catholics across the worlds with his kindness, generosity, love and humour!
John Paul II grew up in Poland and had many jobs before becoming a priest, including an actor, an athlete, a librarian and a playwright! He was friends with many Jews who were persecuted during WWII, and it was during this time that he felt God calling him to become a priest… a call to which he answered with "yes!"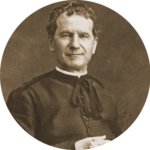 ST JOHN BOSCO
St John Bosco, or more commonly known as Don Bosco, was a priest from Italy who dedicated his life to educating young boys about Christ. When Don Bosco was a child, he had encounters with Jesus and the Blessed Mother in his dreams who would tell him to teach the young of the ugliness of sin and the beauty of virtue.
Whilst ministering to criminals in the local prison he noticed that there were many young people boys there. He took them out of prison and taught them how to live a life of virtue.
ST JOSEPHINE BAKHITA
St Josephine Bakhita was born in Sudan and at the age of 7 was kidnapped by slave traders who gave her the name Bakhita which means 'lucky'. Later in life, when she was liberated from slavery Josephine became a Canossian Sister and dedicated her life to spreading the Gospel in Africa.
She once said "If I were to meet those who kidnapped me, or even those who tortured me, I would kneel down and kiss their hands. Because, if those things had not happened, I would not have become a Christian and I would not be a sister today."
ST MAXIMILLIAN KOLBE
St Maximillian Kolbe was a Franciscan Friar from Poland. During World War II Maximillian was imprisoned in Auschwitz concentration camp. One day a prisoner managed to escape the camp however as a consequence of this the commanding officer of the camp ordered the execution of 10 prisoners. Maximillian saw that there was a young man amongst these prisoners whose wife was heavily pregnant and asked the officer if he could take his place. Maximillian was deprived of food and water for 14 days before he passed away. Right up until the moment of his death Maximillian remained faithful to God.
BLESSED CHIARA 'LUCE' BADANO
Blessed Chiara 'Luce' Badano was born in Italy in 1971 and from a young age she seemed aware of the needs of others. She loved the stories of the Gospel and loved to attend Mass. When she was a teenager, she joined a Catholic Youth movement called the focolare movement, it was there that the founder gave her the name 'Luce' which means 'light' because Chiara's faith shone so bright.
When she was 17, Chiara learned she had a very serious form of bone cancer. Treatments were painful and unsuccessful, but she did not let that get in the way of her love for others and for Christ. She once proclaimed ""I have nothing left, but I still have my heart, and with that I can always love."
BLESSED CARLO ACUTIS
Blessed Carlo is the first Millennial to be beatified by the Catholic Church and died of leukaemia at the age of 15 in 2006. Born in London in 1991 Carlo was just a simple, sweet boy from a fairly ordinary family. But his sincere love for others and for Jesus changed hearts.
Carlo, although young, committed his life to Jesus and attended Church every day. He prayed the rosary regularly and created the very first website documenting eucharistic miracles across the world.
Carlo once said, "To always be close to Jesus, that's my plan."
SIXTH FORM SAINTS
In sixth form our Tutor Saints are different to those in lower school. To signify the leap in maturity and academic capability our sixth form Tutor Saints are named after Doctors of the Church; men and women who throughout history, were exemplary teachers in various theological or spiritual topics.
ST ISIDORE OF SEVILLE
St Isidore of Seville, (c. 560-636) was a theologian, archbishop, and encyclopaedist. His Etymologies, an encyclopaedia of human and divine subjects, was one of the chief landmarks in glossography (the compilation of glossaries) and was for many centuries one of the most important reference books.
St Isidore wrote numerous studies, however outstanding among Isidore's extraordinary literary production was his Etymologiae (Etymologies). The Etymologies, became one of the most studied works during the Dark and Middle Ages.
ST CATHERINE OF SIENA
St Catherine of Siena (c. 1347-1380) was a mystic born during the outbreak of the plague in Siena and was the youngest of 25 children, From age six she had mystical experiences that continued her entire life. Resisting her parent pressure to marry, Catherine joined Dominican order at age 16. Devoted to prayer and fasting she experienced visions of Christ, Mary and the saints along with other diabolical visions. She worked ministering to the ill in hospitals with a particular dedication to the care of patients with leprosy and advanced cancer.
Catherine was one of the great Catholic mystics. Her writings are extensive. She wrote of her visions in her book Dialogue and over 400 letters to people of all different life stations are still preserved. Although Catherine had no formal education, because of her political works she became an adviser to princes and popes.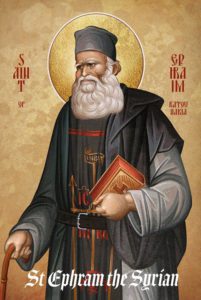 ST EPHRAM THE SYRIAN
St Ephrem the Syrian (c. 306-373), also known as the Harp of the Holy Spirit, was a theologian, poet, and hymnist. Born in Nisibis, Mesopotamia, he was baptized as a young man and became famous as a teacher in his native city, however fled to Edessa when his home was captured by the Persians. It was in Edessa that Ephrem felt called to serve God as a Deacon, however refused the opportunity to become a priest.
St Ephrem wrote many literary pieces however his favourite writing style was verse. Ephrem would write hymn of opposition to the heretics of his day and was one of the first to introduce song into the Church's public worship as a means of instruction for the faithful. His many hymns have earned him the title "Harp of the Holy Spirit."
ST HILDEGARD OF BINGEN
St Hildegard of Bingen (c.1098-1179) was a German writer, composer and mystic. She was an abbess who is well known for her literary works and her songs. She was also extremely interested in medicine and science.
As a child Hildegard was sent to a monastery where she became a nun at the age of 15. By the time she was 38 she had the title of "mother superior" then later in life was granted title of "Abbess". She was responsible for the founding of a number of monasteries whilst she was Abbess.
Known as the "Sibyl of the Rhine", Hildegard had many visions, many of which she wrote down. They were mostly about God and his relationship with humans, the church, redemption from God, and creation.
ST BEDE THE VENERABLE
St. Bede (c. 672-735), known as the Venerable Bede, was an English monk, scholar, and theologian. His works were the crowning cultural achievement in England in the 8th century, "the age of Bede."
Bede was born in Northumbria and was entrusted to the local Benedictine abbey where he stayed for the remainder of his life. Bede's scholarship covered a huge range of subjects, including commentaries on the bible, observations of nature, music and poetry. His most famous work, which is a key source for the understanding of early British history and the arrival of Christianity, is 'The Ecclesiastical History of the English People' which was completed in 731 AD. It is the first work of history in which the AD system of dating is used.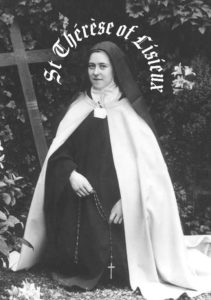 ST THÉRÈSE OF LISIEUX
St Thérèse of Lisieux (1873-1897) was born in Alencon, France and was the youngest of nine children. Thérèse was a selfish child who relished attention. Despite this, she had always wanted to follow in her sisters' footsteps by becoming a Carmelite nun, this desire was made stronger upon the death of her mother.
When Thérèse was thirteen she had what she calls her "Christmas conversion." She says in her autobiography Story of a Soul, "In an instant I grew up." It was at this moment that she stopped being self-centred and became determined to save the souls of great sinners. Thérèse entered the Carmelite order at the age of 15 and became a nun when she was 16.
Therese often spoke of not doing great things, but of small things with great love. She called this her "little way".
ST THOMAS AQUINAS
St Thomas Aquinas (c. 1225-1274), born in Naples was regarded by the Catholic Church as its greatest theologian and philosopher. When he was young he was sent for his early education to the monastery. However, after studying at the University of Naples, Thomas joined the Dominican order.
Aquinas had a mystical experience while celebrating Mass after which he stopped writing, leaving his great work, the Summa Theologica, unfinished. When asked why he had stopped writing, Aquinas replied, "I cannot go on…All that I have written seems to me like so much straw compared to what I have seen and what has been revealed to me."