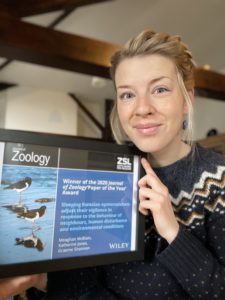 Last week Miss McBlain, one of our Science teachers, was awarded the '2020 Journal of Zoology Paper of the Year Award' from the Zoological Society of London for my paper published studying oystercatchers in North Wales.
The 'editorial board considered this work exemplifies excellence in zoological research'

The paper was a bit of hit in the press and made it onto Springwatch earlier this year and was featured in The Times, The Independent and The Mail Online etc.

The paper was produced from Ms McBlain's Master of Zoology dissertation which she did way back in 2016 at Bangor University.
Miss McBlain says:
"Despite being the lead author on the paper, I honestly never thought I would be nominated or even win considering I am not an academic at a university!"
This is a huge achievement and we are very proud of Miss McBlain!
For more details on the paper, see their website here: https://bit.ly/3nqD6nk and also watch the video below: