If you have any dietary requirements or queries about any of our menus, please contact our Catering Manager, Mrs S Hull on 01946 692275.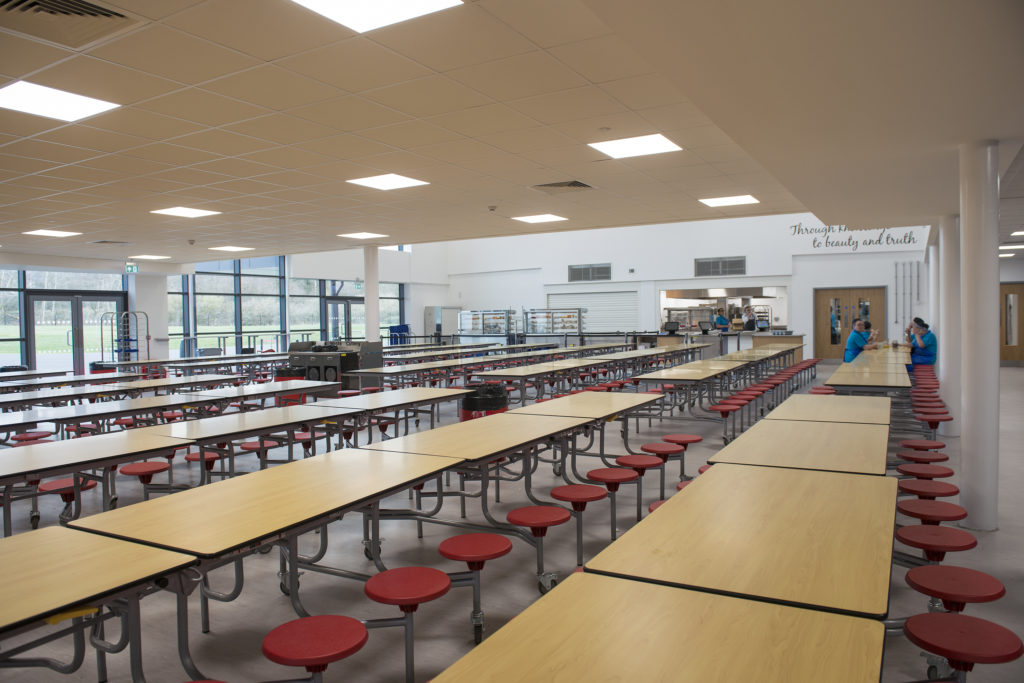 Below are our Menu's for the first term of 2021/2022 school year, which runs on a four week cycle.
Please check boards in the canteen for up to date information.
Menus 2022/2023
Week 1
Monday
Tuesday
Wednesday
Thursday
Friday
Soup of the Day
Tomato
£1.02
Lentil £1.02
Vegetable
£1.02
Leek & Potato
£1.02
Carrot & Coriander
£1.02
Main Meals

Pork Sausage in Onion Gravy £1.84

Chicken & Sweetcorn Pie £1.84
Beef Curry & Rice £2.60
Roast Pork £1.97
Battered Fish £1.94
Chicken Chow Mein £1.84
Savoury Mince & Dumpling £1.84
Chicken Burger £1.84
Chilli & Rice £2.60
Fish Fingers in a Bun £1.84
Vegetarian Choice (V)
Pasta Broccoli Bake £1.84
Vegetable Stir Fry £1.84
Tomato & Basil Calzone £1.84
Vegetable Cous Cous £1.84
Macaroni Cheese £1.84
Chef's Selection of Potato & Vegetables (V)
Week 2
Monday
Tuesday
Wednesday
Thursday
Friday
Soup of the Day
Pea & Ham £1.02
Sweet Potato & Chilli £1.02
Lentil £1.02
Vegetable £1.02
Minestrone £1.02
Main Meals
Sweet Chilli Chicken & Rice £2.60
Bacon Chop £1.84
Shepherds Pie £1.84
Roast Beef & Yorkshire Pudding £1.97
Pizza £1.84
Sausage Rolls
Meatballs & Pasta £2.60
Chicken Curry & Rice £2.60
Chicken Casserole £1.84
Battered Fish £1.84
Vegetarian Choice (V)
Piri Piri Quorn & Pasta £1.84
Vegetable Fried Rice £1.84
Vegetable Spring Rolls £1.84
Salmon & Pea Pasta Bake £1.84
Cheese & Onion Pasty £1.84
Chef's Selection of Potato & Vegetables (V)
Week 3
Monday
Tuesday
Wednesday
Thursday
Friday
Soup of the Day
Lentil
£1.02
Vegetable £1.02
Mushroom £1.02
Parsnip & Chilli £1.02
Butternut Squash £1.02
Main Meals
Spaghetti Bolognaise £2.60
Minced Beef & Veg Pie £1.84
Lamb Curry & Rice £2.60
Roast Chicken £1.97
Battered Fish £1.97
Chicken Pizzine £1.84
Chicken & Bacon Broccoli Bake £1.84
Hot Dog £1.84
Beef Stew £1.84
Fish Cakes £1.84
Vegetarian Choice (V)
Vegetable Fajita £2.09
Three Pepper Frittata £1.84
Basilico Pasta Bake £1.84
Sweet & Sour Vegetables & Rice £2.60
Cheese & Bean Burrito £2.09
Chef's Selection of Potato & Vegetables (V)
Week 4
Monday
Tuesday
Wednesday
Thursday
Friday
Soup of the Day
Vegetable £1.02
Spicy Parnsip
£1.02
Tomato £1.02
Lentil & Bacon £1.02
Scotch Broth £1.02
Main Meals
Chicken Arrabiata £1.84
Irish Stew £1.84
Lasagne £1.84
Roast Turkey £1.97
Pizza £1.84
Beef Burger £1.84
Cottage Pie £1.84
Sweet & Sour Pork & Noodles £2.60
Savoury Mince £1.84
Battered Fish £1.97
Vegetarian Choice (V)
Cheese Flan £1.84
Spring Rolls £1.84
Pizzine £1.84
Pomodoro Pasta Bake £1.84
Cheese & Bean Whip
Chef's Selection of Potato & Vegetables (V)
Tariff (2021 - 2022)
| Sandwiches | From |
| --- | --- |
| Hot Baguette | £2.20 |
| Regular Sandwich | £1.65 |
| Premium Sandwich | £1.99 |
| Egg Mayonaise | £1.12 |
| Chip Butty | £1.96 |
| Wraps | £2.09 |
| Soup in a Bowl | £1.02 |
| Healthy Choice | From |
| --- | --- |
| Fresh Fruit | 42p |
| Yoghurts from | 95p |
| Vegetable Sticks | 61p |
| Fruit Pots (small) | 59p |
| Jelly (small) | 59p |
| Specials | From |
| --- | --- |
| Meal Deals | £2.50 |
| Main Meals from | £1.84 |
| Vegetarian Meals from | £1.84 |
| Roast Meals | £1.97 |
| Fish of the Day | £1.97 |
| Extras | From |
| --- | --- |
| Garlic Bread | 42p |
| Creamed Potato (x2) | 90p |
| Chips | £1.17 |
| Pasta King | £2.60 |
| Nan Bread | 49p |
| Vegetables | 39p |
| Rice/Pasta | 91p |
| Bread Roll | 49p |
| Flora Portion | 11p |
| Sauces | 9p |
| Gravy/Curry Sauce | 15p |
|   |   |
|   |   |
| Healthy Choices | From |
| --- | --- |
| Pasta Salads from | £2.38 |
| Boxed Salads from | £1.65 |
| Fruit Pots Small | 58p |
| Jacket Potato | 88p |
| Protein Pots | 80p |
| Hot Baguettes | £2.20 |
| Snack Attack | From |
| --- | --- |
| Cookies | 72p |
| Grapes/Melon | £1.00 |
| Cheese & Crackers | 88p |
| Bananas Chips | 58p |
| Bread Roll | 49p |
| Sweet Delight | From |
| --- | --- |
| Tray Bakes | 95p |
| Cheesecake | 96p |
| Muffins | 91p |
| Hot Pudding | 95p |
| Custard | 42p |